The Los Angeles Lakers are arguably the franchise with more history in the NBA.
The team has retired a total of 12 jerseys that are hanging in the rafters of the Staples Center, alongside the 16 championships.
---
Now, these past few years there have been questions whether Pau Gasol's jersey should be retired or not.
---
---
Pau Gasol played 7 seasons for the purple and gold, from 2008 to 2014. During that time, Gasol was an All-Star three times, went to three NBA finals, and most importantly, managed to win two championships alongside Kobe Bryant. During his Laker career, Gasol averaged 17.7 points, 9.9 rebounds, and 3.5 assists per game in the regular season. In the playoffs, he averaged 16.8 points, 10.1 rebounds, 3.5 assists in a total of 93 games.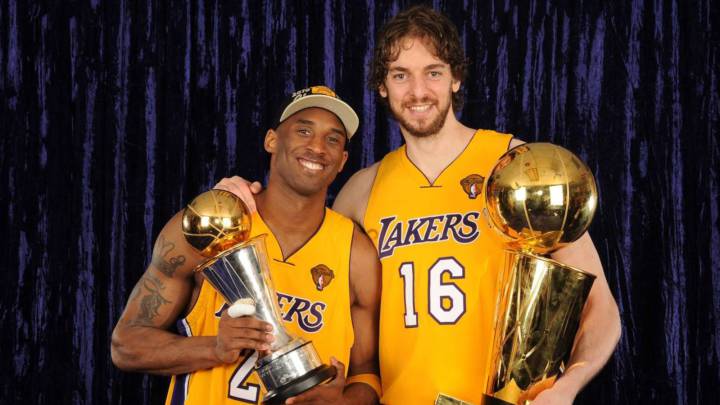 Even though those numbers are impressive, the best argument for Gasol is what Lakers legend Kobe Bryant has to say about this situation.
Kobe told Antonio Martin in 2018 that "There's no debate. Pau, when he retires, he will have his number in the rafters next to mine. The reality is, I don't win those championships without Pau. The city of L.A. doesn't have those two championships without Pau Gasol."
And Bryant is right, without him, the Lakers probably wouldn't even make it to three straight NBA finals. Before Gasol's arrival, rumors were surrounding Bryant's future with the team, arguing the lack of help the team has gotten him.
---
---
There are probably two answers to that question. First of all, Pau hasn't retired yet, and maybe the franchise is planning on having the special night after his retirement. The other reason is because of the high standard the team has for his jersey retirements.
Every number that has been retired is known for being a Laker legend, or even NBA icons. Players like Kareem Abdul-Jabbar, Jerry West, and Shaquille O'Neal have a legendary status in the NBA that are almost unmatchable. But the same can be said about Kobe Bryant, and if he believes that Gasol's jersey should be next to his, then is there a debate?
---
Should the Lakers retire Pau Gasol's number?
---
Featured Image: NBA Canada Illustrations